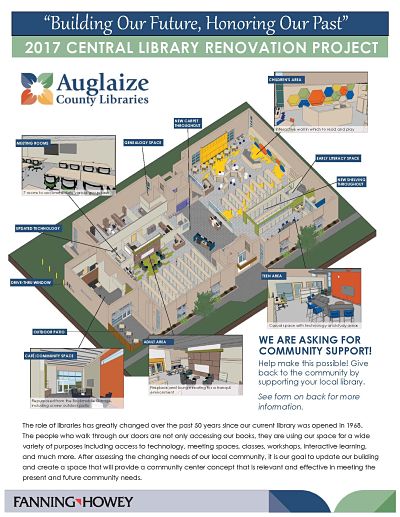 2017-18 Central Library Renovation Project – Building Our Future…Honoring Our Past
We are thrilled to announce the upcoming renovation of our Central Library in Wapakoneta. This is a project that has been in development for many years. Take time to read about the needs that will be fulfilled by completing this renovation and the plan that will make it happen. We are asking for community support to help fund these changes. Please see the links at the bottom of the page to view the architectural image and the donation form. Thank you for supporting our local library! 
Identifying our Need
Mission Statement - The Auglaize County Public District Library System provides resources to serve the informational, educational, and recreational needs of the public.
The role of libraries has changed over the past 50 years since the construction of our current library facility. Libraries have become community centers and are no longer warehouses for books.
The people who walk through our doors are not only accessing our books, they are using our space for a wide variety of purposes including access to technology, meeting spaces, programs, classes, interactive learning, and so much more.
Our current design does not adapt to the changing needs of our community and the population we serve.
After assessing the changing needs of our local community, it is our goal to update our building and create a space that will provide a community center concept that is relevant and effective in meeting the community needs.
Libraries are no longer quiet buildings but buildings with designated quiet areas. We invite you to come and enjoy yourself, interact with friends, take a class, attend an event, relax with a cup of coffee by the fireplace, or watch the children learn through interactive play spaces.
Creating a Plan to Address the Need
Key elements to be included in this renovation:

Repurposing the Bookmobile Garage – The current garage space, previously used to house the bookmobile (sold in 2012), will be incorporated in the new design to feature a community room with floor to ceiling windows overlooking the new outdoor patio. This space will be used for events, meetings, and a comfortable quiet space throughout the day.
Outdoor Green Space/Patio – A tranquil patio space will be located on the Perry Street Side of the building outside of the current bookmobile garage. This space will be open to the public for relaxing with friends, meeting space, events, and more while providing you a view of our beautiful courthouse.
Tranquil Environment For Adults - A new fireplace and lounge seating area will provide just the right environment to relax with a hot beverage while reading the newspaper or meeting up with friends.
Interactive Children's Wall – If you are looking for a place for children to be creative, play, learn, and interact, we've included a space for them at the library! The new interactive children's wall will include features such as cubbies for reading, climbing, crawling, pretending and so much more.
Community Spaces & Quiet Rooms – The design will expand our meeting rooms from 2 to 7 spaces varying in size from small 2 person tutor rooms to large 15 person meeting rooms and an event space to accommodate a wide variety of needs. These rooms will be used for events, classes, study rooms, tutors, meetings, and more.
Drive-thru – To provide easy access and convenience to all of our patrons, we are incorporating a drive-thru. Patrons will now have the option to request items and pick up items without leaving their car. A new return box will allow for easy returns right from the car as well.
Genealogy Tribute – A space has been designed specifically for the genealogy enthusiast. This dedicated space will provide a quiet room for research and house the Genealogy Society materials for public access.
Early Literacy Room – It's never too early to introduce your children to the library- a new early literacy room has been created for the toddlers in your family. This area will feature educational manipulatives, soft play items, board books and more. Parents, grandparents, and caregivers will be able to relax and play along with the children thanks to the gated half wall that has been included to keep the children safe and right at your fingertips.
Technology – State-of-the-art technology is key to staying relevant in today's day and age. Our goal is to incorporate the necessary advancements to make technology access at our library simple and easy to use while preparing for future technological innovations.​
Flexible Shelving and Displays – Newly designed shelving and display areas will provide easier browsing, mobile shelving, and bookstore display concepts.
Self-Checkout Desk –A complete redesign of our circulation desk will include a new self-checkout desk. This desk will incorporate 3 terminals that allow patrons quick and easy checkout.
Fresh Updated Interior and Exterior Look – New windows to allow natural light into the library and cost-efficient lighting are elements in our design that will add to the updated look and feel of the structure along with new carpeting, furnishings and more.
Architects & Funding
Funding the project is made possible through the state budget and local donations. Final cost is yet to be determined.
Fanning Howey Architects located in Celina, Ohio, were selected to facilitate the design and construction of the renovation though a Request for Qualifications process completed in February of 2016.
Committed to Serving our Whole County
The Auglaize County Public District Library System is committed to serving all of the communities in our district. We continue to update and change our facilities as needs arise. This renovation is the start of an overall plan to incorporate the necessary changes and additions to stay relevant in our communities and meet the needs of our patrons.
The library system is made up of the central library and five branches. We own two facilities in our district; Wapakoneta (central library) and Waynesfield. Our library locations in Cridersville, Minster, New Bremen, and New Knoxville are leased properties. 

Current Library Facilities:

Cridersville – Built and opened to the public in October 1999
Minster – Moved to current building in 1976, expanded to double the size in 2003
New Bremen – current facility was built in 1973 expanded to double the size in 1990
New Knoxville – moved to current building in 1985, expanded to double the size in 1988
Wapakoneta - current facility was built and opened to the public on March 23, 1968

  Aside from updating the carpet and interior furnishings of the Wapak location, the building has remained relatively unchanged since it was built

Waynesfield – built and opened to the public in 1998
Donate to the Renovation Project
We are asking for community support to make the renovations possible. If you would like to be a part of our renovation project, please send your donation to:

Wapakoneta Area Community Foundation – Wapak Library Renovation - 103 S. Blackhoof Street, Wapakoneta, Ohio 45895
Donations will be featured on our digital donation wall. Donation recognition will be sized by sponsor level.

Levels Include:

Up to $100
$100+
$500+
$1,000+
$5,000+
$10,000+
$25,000+
$50,000+

Please complete the Renovation Donation form found in the link at the bottom of the page.