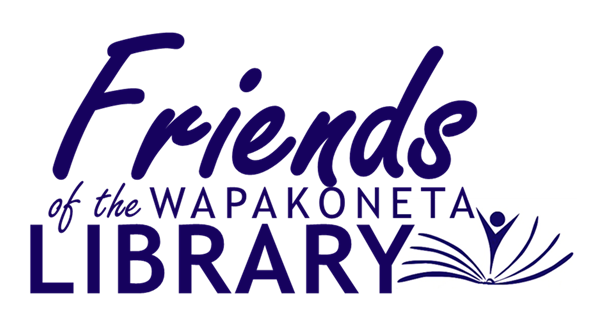 ---
Would you like to give back to your local library? Becoming a Friends BOOSTER is a wonderful way to stay informed about what is going on at the library as well as give back to our local library. Please consider printing a BOOSTER form and sending it back with your donation. The annual Booster membership runs with the school year. We appreciate every dollar you are able to contribute. Thank you for your support!
2022-2023 Board Officers
President - Barb Harrod
Vice President - David McNeal
Secretary - Becky Niekamp
Treasurer - Allison Young
 
CLICK HERE TO PRINT A BOOSTER FORM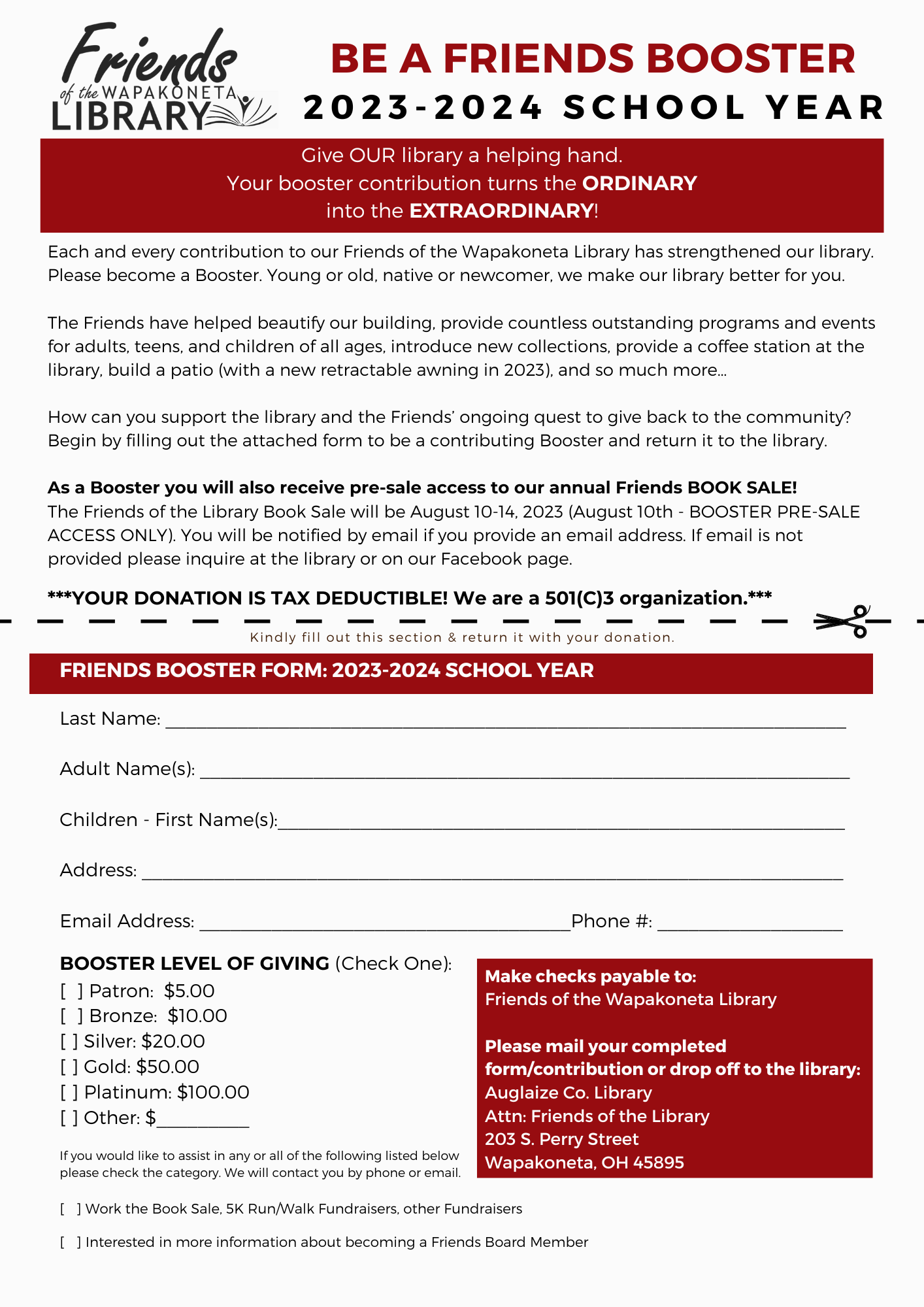 The Wapakoneta Firecracker 5K Run/Walk is back for 2023! 
Proceeds from this event will be used to support many programs throughout the community of Wapakoneta, The Wapakoneta Library, and St. Joseph Parish.  Some of these programs include the Summer Reading Program at the Wapakoneta Library, various library events and needs, youth events, outreach programs, and also those organizations supported by St. Joseph.
REGISTER ONLINE - Sign up for the 2023 Firecracker 5K
Who can be a Booster of the Friends of the Wapakoneta Library? 
Give our library a helping hand.
Your booster contribution turns the ordinary into the extraordinary!
Each and every contribution to our Friends of the Wapakoneta Library has strengthened our library. Please become a Booster. Young or old, native or newcomer, we make our library better for you.
The Friends have helped beautify our building, provide outstanding programs for adults, teens, and children of all ages, introduce new collections, provide a coffee station at the library, and so much more…
How can you support the library and the Friends' ongoing quest to give back to the community? Begin by filling out the form to be a contributing Booster and return it to the library.

As a Booster you will also receive pre-sale access to our BOOK SALE!
***YOUR DONATION IS TAX DEDUCTABLE! We are a 501(C)3 organization.***
HERE IS A LIST OF SOME OF THE ITEMS & PROGRAMS DONATED BY THE FRIENDS TO THE WAPAKONETA LIBRARY LOCATION:
Bulletin Board
Large Display Board
Children's Activity Table/Sand Table
Kitchen Collection – Display Stands, Bags, Cake Pans/Cookie Cutters
Coffee Station at the Library - Ongoing 
Christmas Decorations – including 2 nine foot Christmas trees and decorations
Children's Puzzles – to replace all of the puzzles on the children's tables
Halloween Parade Candy
Basement Renovations - $1,000 sponsor
Story Time Chair – a new chair for the story time area
Book Display Stands for children's area
Chrismas Concert - New Outlook ($150) & refreshments ($500)
Bags to promote the Friends
Coloring Event - Adults
Glow in the Dark Valentine Party - Kids 
Dollar-A-Day Boys Presentation by Bill Jamerson - Adults
Progressive Era Exhibit - Split with Historical Society
TV, Cart, Apple TV
Summer Reading - Adult Prizes and Programs
Black Book Easels
Games Collection
Christmas Concert
Poster Printer
Chalk Paint Class - Adults
Teddy Bear Workshop - Kids
Teen Area Updates
Summer Reading - Cosi and Prizes
Summer Mailer to Wapak 
Clear Storage Totes
New Patio in the 2018 Library Renovation Project ($25,000)
Summer Reading - Kids Jungle Island Zoo Program
Summer Reading - Adult Doug Adams Concert/Prizes/Crafternoon Project
Christmas Concert - The Other Reindeer
Community Read - Private Autor Reception - Astronauts Wives Club
Ohio Tote Bag Craft Event
Hot Wheels Party
2019 Summer Reading Program - Jungle Island Zoo Program
STEM Kits
Games & Puzzles Collection Update (+$500)