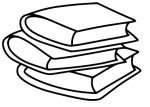 Teachers at all local schools, daycare instructors, and homeschool teachers are welcome to upgrade their regular library card status to "Teacher Card" status. A Teacher Card allows users to borrow materials for an extended 56-day loan period instead of the usual 28-day loan period. 
Lost your card? Replacement cards are free?
Never had one? No worries. Bring your photo ID and we'll get you all set up.
Can't remember your PIN? Call us or stop in and we'll get you squared away.
Want to have a librarian pull a selection of books for you on a certain topic? Fill out a Classroom Collection Request online to make life a little easier.