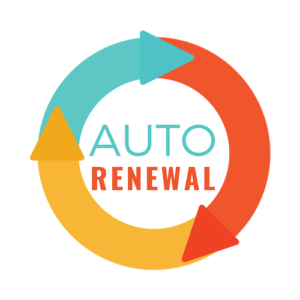 MORE TIME TO ENJOY, LESS LIKELY TO BE OVERDUE
Auglaize County Libraries makes manually renewing books, CDs, DVDs, Games, Cake Pans, and more, a thing of the past. To make it easier for Library customers to keep track of when their items are due, we're offering a convenient service that automatically renews your checkouts! As of September 1st, 2019, any non-digital items checked out at an Auglaize County Public District Library System location (Wapakoneta, Cridersville, Minster, New Bremen, New Knoxville, and Waynesfield) are renewed automatically at the end of its lending period. Here's how it works: Library items may be eligible for a courtesy extension (renewal) near the end of their first loan period. Eligible items will be automatically renewed. It also means you won't have overdue fines when you forget or don't have time to renew the items yourself. Please note: items will not be automatically renewed in a number of special circumstances, including the following:
There are holds on the item (Another customer reserves that item)
There are over $3.00 in fines on the library account
The item has reached the maximum number of renewals (usually 1)
The item is an eBook, eAudiobook, or eVideo, Hot Spot
The library card/library account has expired
And the best part? You don't need to sign up for this new service. We'll take care of it for you! Customers will NOT be notified that their item has been automatically renewed. They WILL be alerted with the standard notice, however, when the item is due back. If you have any questions about our new automatic renewal services, please contact your local library.
There are a wide variety of resources available to you for managing your account. Please take advantage of these features to help you with your borrowing needs. Below are a few frequently used features:
Check Your Account Online – Have you forgotten what items you checked out? You can view the items at any time through the library website, www.auglaizelibraries.org. Click on MY ACCOUNT and enter your library card and PIN. This will show you the items you have borrowed from the library and when they are due. To go directly to the MY ACCOUNT page, click here.
Placing Holds and Requesting Items – Are you having trouble finding your favorite books, DVDs, or other library items on the shelves? The very popular items are frequently checked out to other patrons. Your library materials are able to be requested right from your own digital device wherever you are just by accessing our website, www.auglaizelibraries.org. Click on the CATALOG button or enter the title you are looking for in the blue search box at the top of the page. Once you find the item, click PLACE REQUEST and enter your library card number and PIN. You will be notified when the item is available for pick up.
Overdue Notices – Do you have trouble remembering when items are due? The library no longer mails overdue notices, BUT we do send out notices via email and text message. If you do not receive overdue notices, please contact the library to have your email or text option enabled on your account.